Pipe Support
Clock Spring Pipe Supports provide protection at support or hanger locations that can be applied quickly and easily requiring no special tools or training.
Pipe supports are constructed of the same high strength corrosion resistant fiberglass composite split sleeve as the Clock Spring sleeve. Used in conjunction with a high-performance epoxy filler and adhesive material. The composite split sleeves are uniquely shaped and sized to wrap around pipe diameters of 3/4″ and larger. The individual layers are bonded together forming a 2-3 ply barrier between the pipe surface and the pipe support or hanger. Pipe supports are an excellent way to eliminate crevice or galvanic corrosion and erosion. They also act in a vibration dampening capacity helping to eliminate abrasion and wear on the pipe surface.
Contour Wrap
Clock Spring Contour is an engineered, wet applied repair system featuring bi-axial or quad-axial stitched fiberglass cloth applied in a wet-lay system with two-part epoxy and a filler material.
Available in multiple kit-sizes for any diameter pipe. Engineered repairs follow ISO or ASME guidelines. Contour is an ideal option for repairs involving complicated geometry situations such as tees, flanges, & varying diameter pipe. No pipe cutting or welding is necessary, with repairs only requiring a cold-work permit. Clock Spring Contour is regularly used in plants, refineries, tank farms, terminals & offshore locations around the globe.
Crack Arresters
The original use of a Clock Spring was as an engineered product to prevent long running fractures on very high pressure pipelines, such as CO2 or enriched natural gas. Crack arrestors are often used to mitigate this concern as part of a comprehensive fracture control plan. Crack Arresters can be supplied for pipelines ranging in size from 4″ to 56″ and come in a 12 ply sleeve similar to the standard Clock Spring composite repair sleeve.
Please contact Brian Franks at 403-681-4811 or a by email at [email protected] for a price quotation on any of Clock Springs Products. For further information on Clock Spring please visit their website at www.clockspring.com.
Casing Spacers
Clock Spring Casing spacers are a derivative product of the Clock Spring composite repair sleeve. Pipelines that cross beneath roads, railways and riverbeds are often installed within a casing. To prevent damage between the pipeline and the casing from abrasion Clock Spring casing spacers can be installed along the pipeline prior to pulling the pipeline through the casing. The bond length of the adhesive over the entire length of the adhesive over the entire length of an eight layer Clock Spring provides the lap shear necessary to eliminate movement and to ensure that the sleeve will not disband from the carrier pipe.
Clock Spring Casing Spacers can be installed and cured in 2 hours making it a highly effective solution for pipeline pulls. Spacers can be supplied in 8 layer or 12 layer coils depending on the gap required between the carrier pipe and the casing.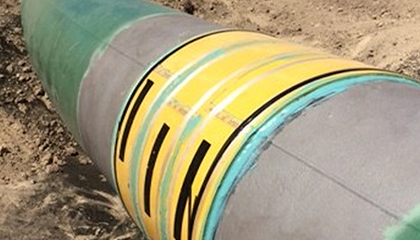 Safety Sheets
No Safety Sheets available online at this time. Please contact us directly for more information.